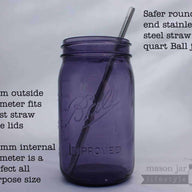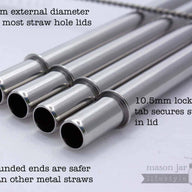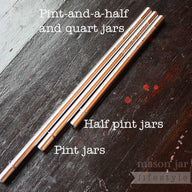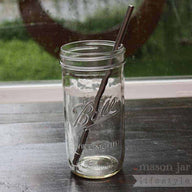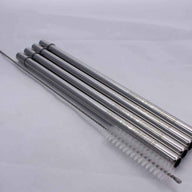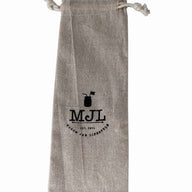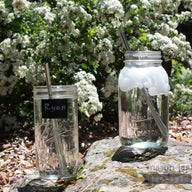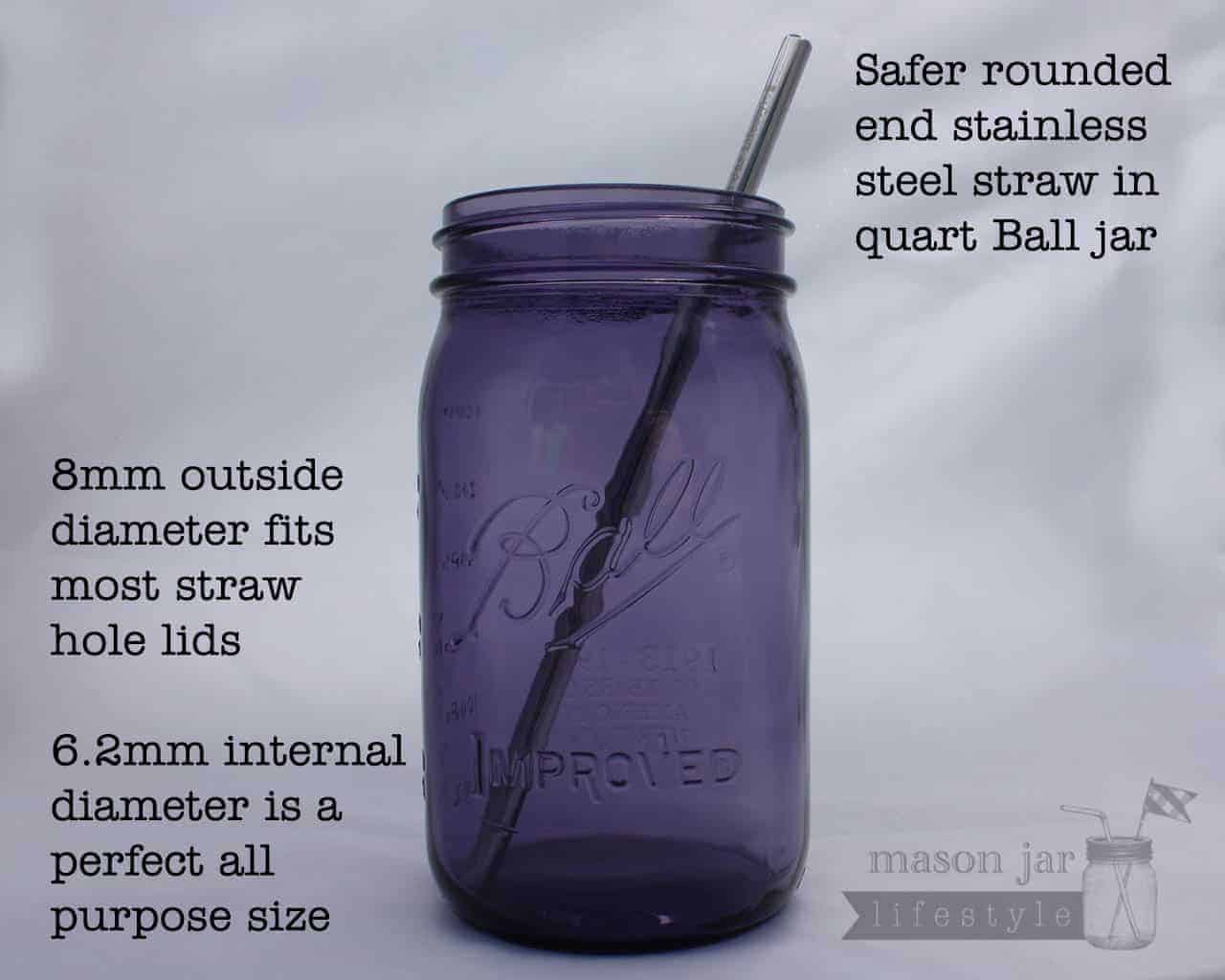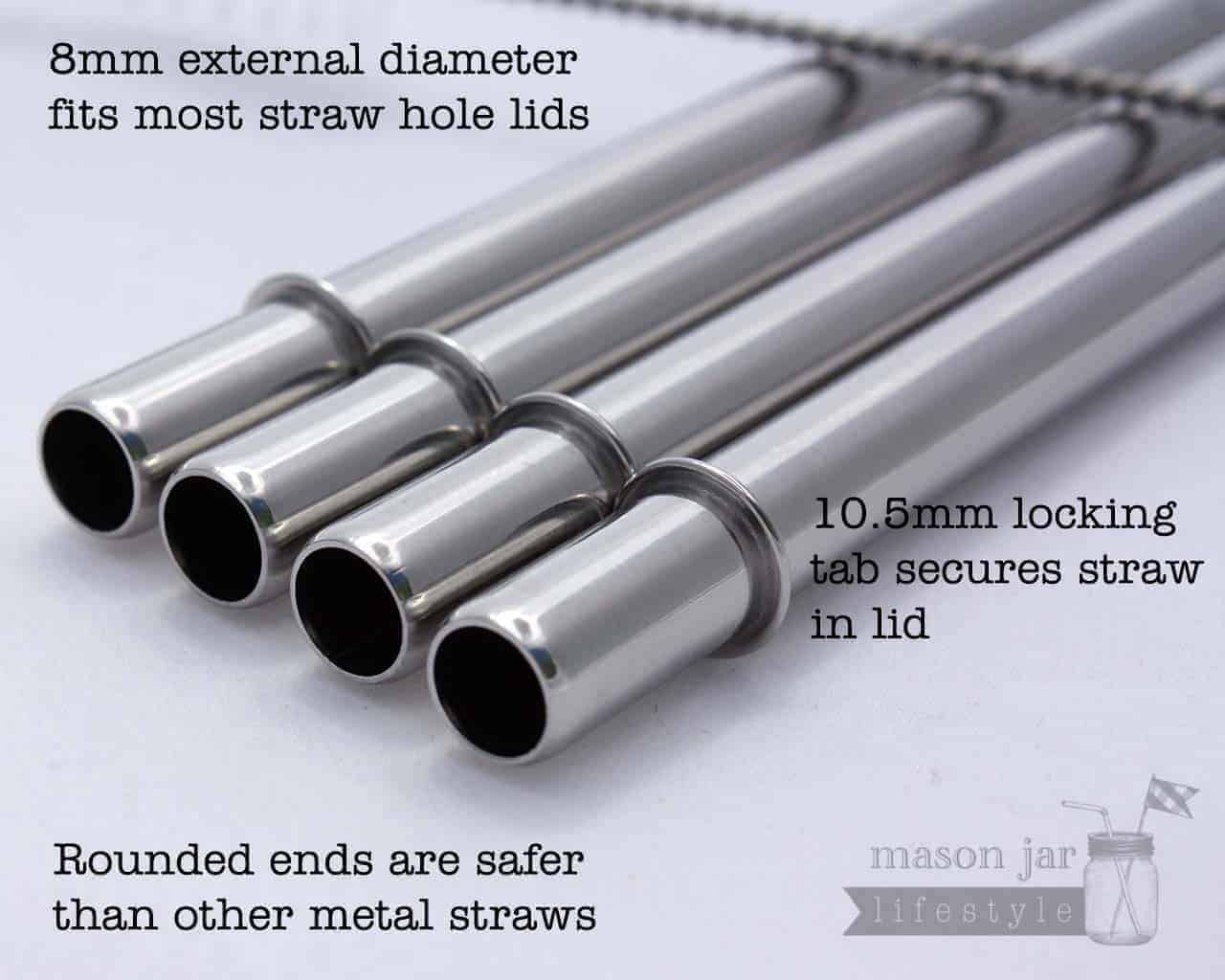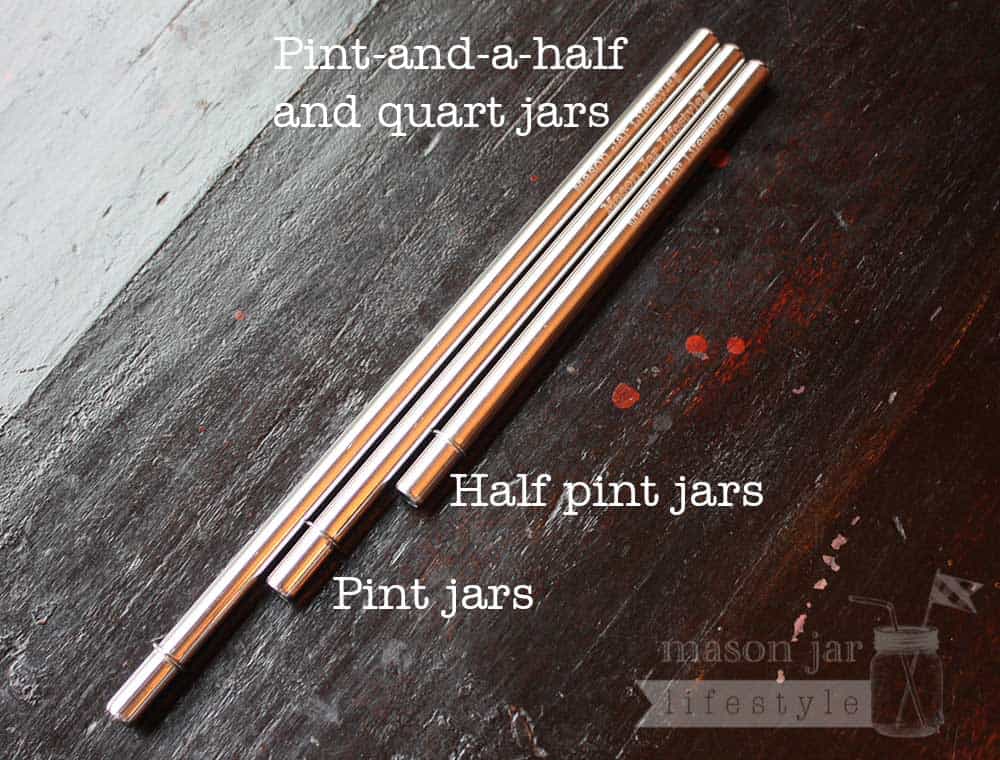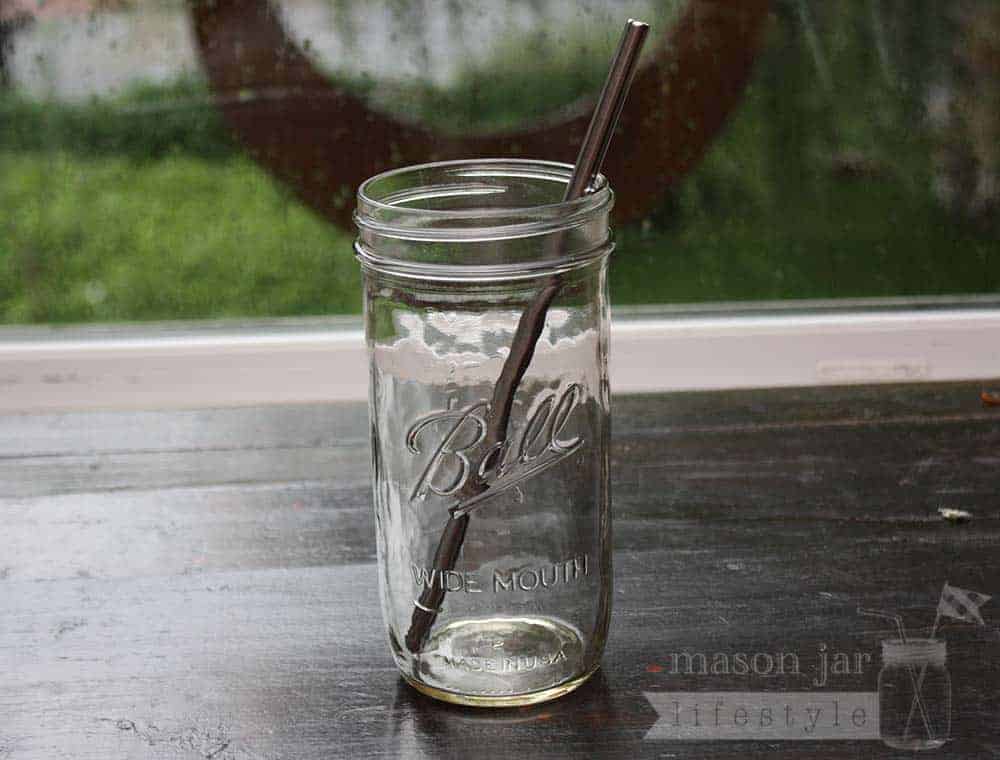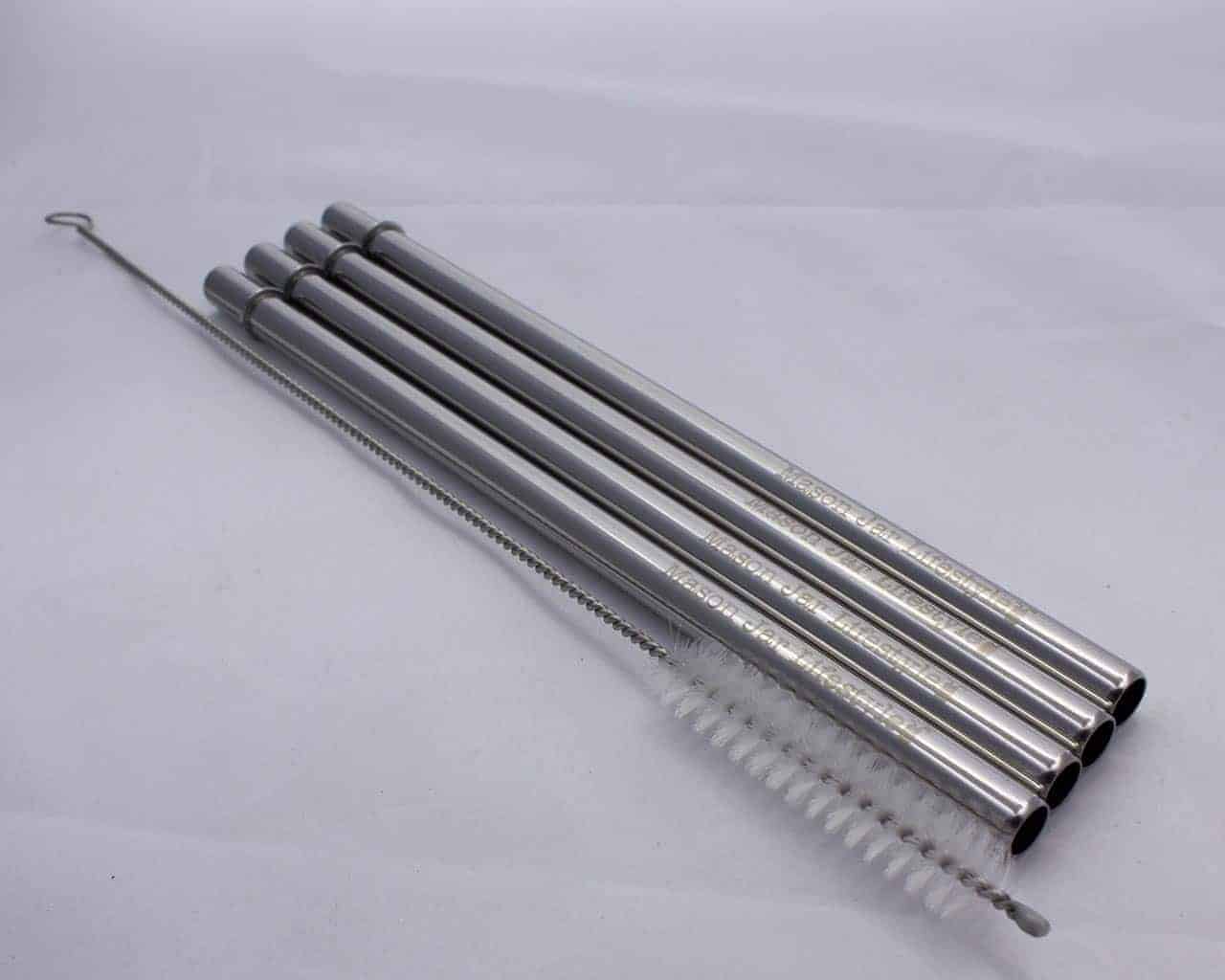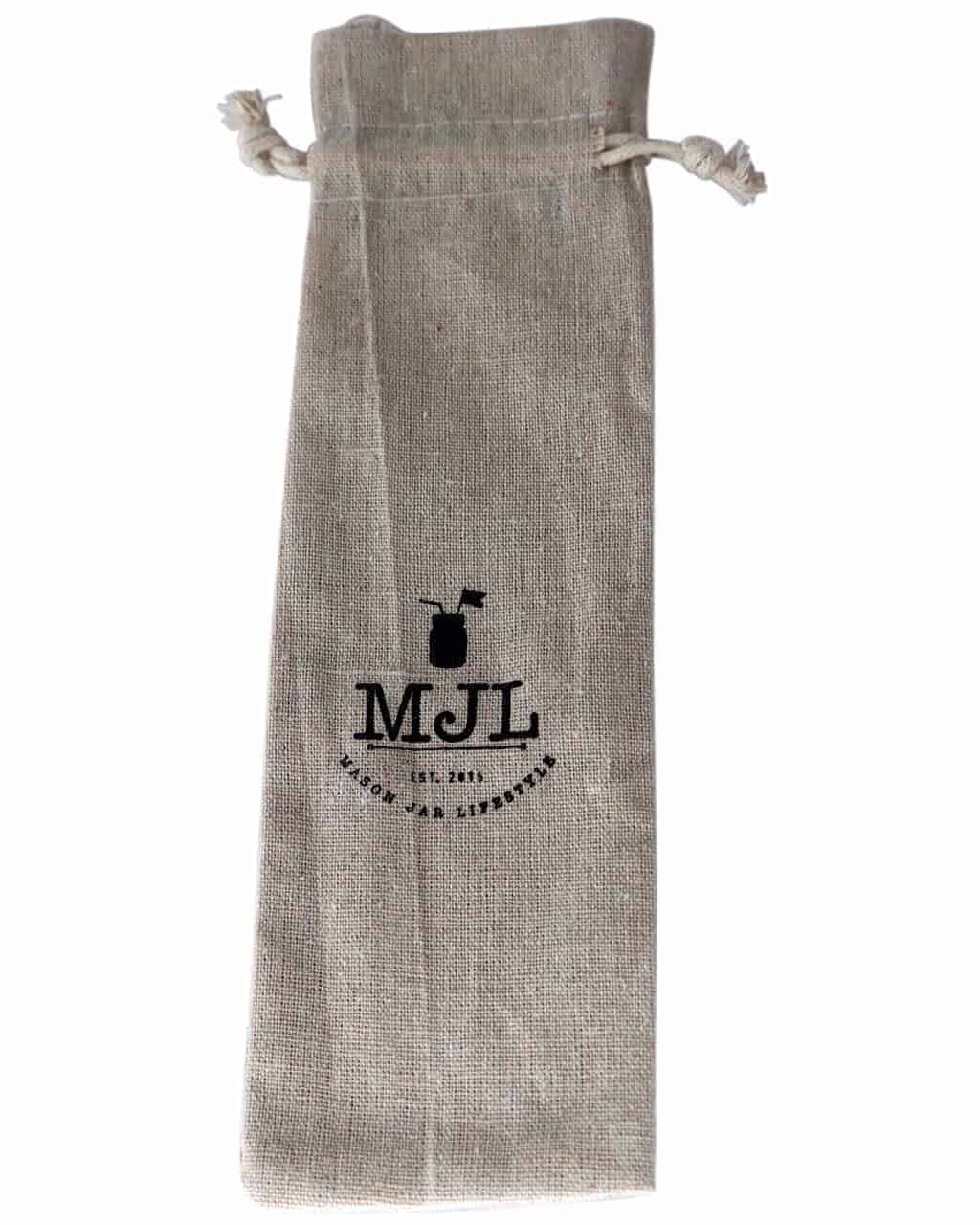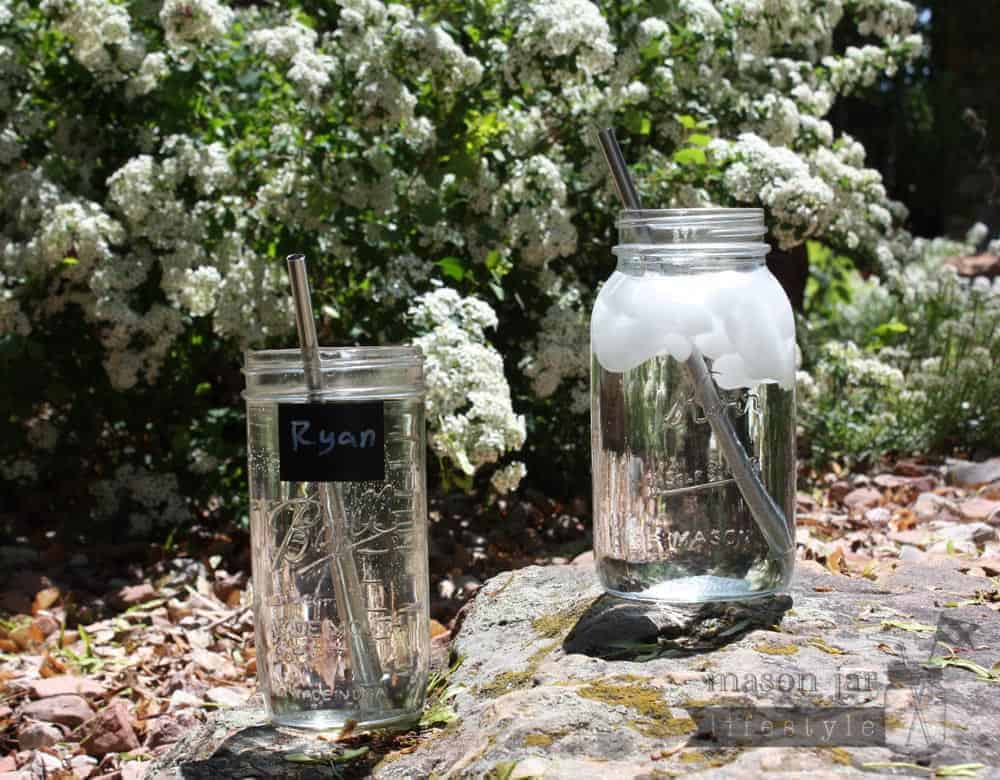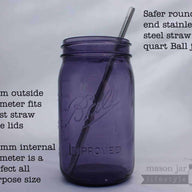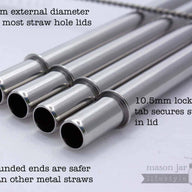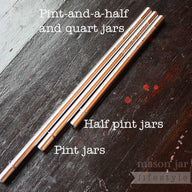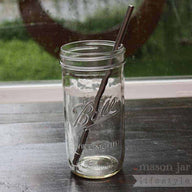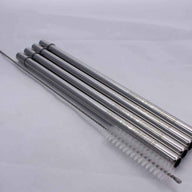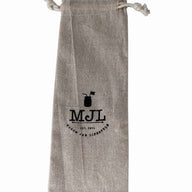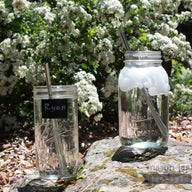 Product Description
Individual straws available here.
Our 9" long, 8mm outside diameter stainless steel straws fit in most of our straw hole lids and are perfect for drinking any beverage.
The 10.5mm locking tab near the end will hold the straw in our straw hole lids so they cannot fall out without removing the lid. This is great for kids who pull their straws out and can't get them back in, and if the drink gets tipped over the straw stays in the jar. You need to put the straw in the jar first, then put the lid over the top and screw it on.
Quart and pint-and-a-half jars are ideal for almost any kind of drink! I drink my morning smoothie from a quart jar and I drink water all day long from a pint and a half jar. Keep your family safe from chemical leach and serve your refreshments or mixed drinks in style!
Mason jar straw hole lids can have different sized holes, so be sure to double check that your straws and lids are compatible.
The most reliable way to clean reusable straws is our straw cleaner with soap and hot water. They are also dishwasher safe, or a quick rinse might be sufficient. You can also boil these to disinfect them if you want to.
My personal cleaning routine is to rinse them after use, put them in the dishwasher, then run a straw cleaner through them and rinse again before putting them away. My dishwasher usually gets them clean but sometimes leaves a little residue so this ensures they are clean.
Stainless Steel is one of the most commonly used materials in the kitchen, used to make cookware, utensils, commercial food processing and storage equipment, and more. Stainless steel will not leach any chemicals into your beverage like plastic can.
Every day, 500 million disposable straws are used in the US! Start being part of the solution instead of part of the problem! You could use these straws for the rest of your life!
Stainless steel straws are:
Very strong and durable
Beautiful
Reusable and long lasting
Eco friendly
Dishwasher safe
Safe for all types of foods and beverages
Rust proof
Break proof
Note that jars and lids are sold separately.
Treat stainless steel straws like other metal utensils. Don't let a child run around with one, and please be careful!
The best straws ever !
Love the steel straws , I will be geting more . Fit the jars perfectly .....
Super nice straws
I was very happy to see these straws had a fairly wide diameter as straws go. Nothing like a delicious thick chocolate milkshake as a summer treat. You have to have a thick sturdy straw to enjoy it properly
Steel straws
I love them I don't know why I waited so long to order them lifesaver thanks so much!!!😃😃😃❤️❤️❤️
Nice quality stainless straw!
Very nice quality, me and my family like to use these straws a lot!
H2o Measured and Safely Consumed
I wanted a fun and safe way to keep track of how much water I was drinking on a daily basis. My turquoise widemouth Mason jars record daily consumption perfectly and easily. My new stainless steel straws, ring, and silicone top provide confidence that my water will remain pure and safe to drink. I always cut up a lemon or two which adds a bit of pizzazz to this very satisfying thirst quencher. Thanks!
Learn More about Mason Jar Lifestyle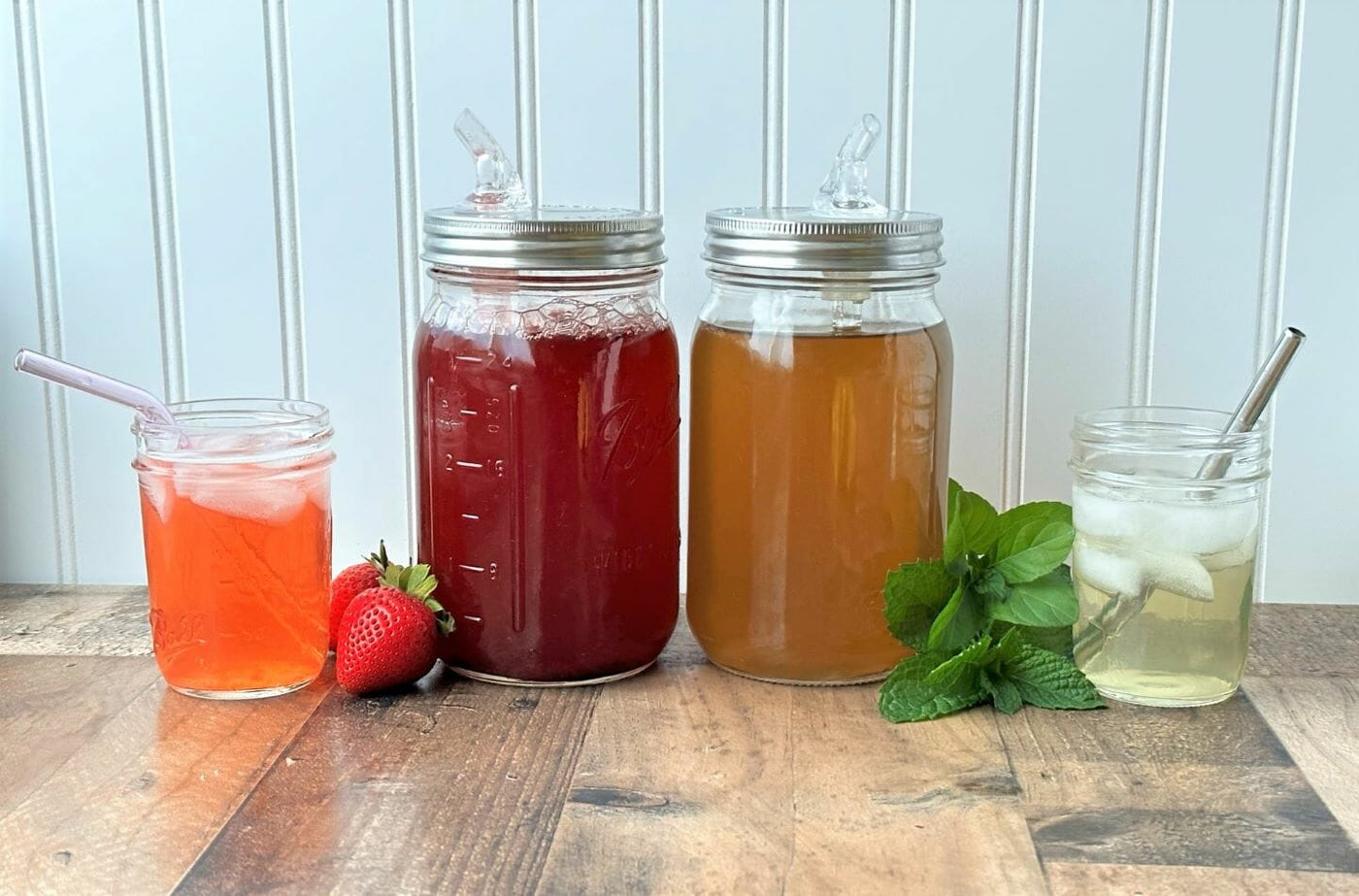 Check Out Our Blog
Find the latest recipes, DIY projects, and much more. All created and curated by our Mason jar experts.
View the Blog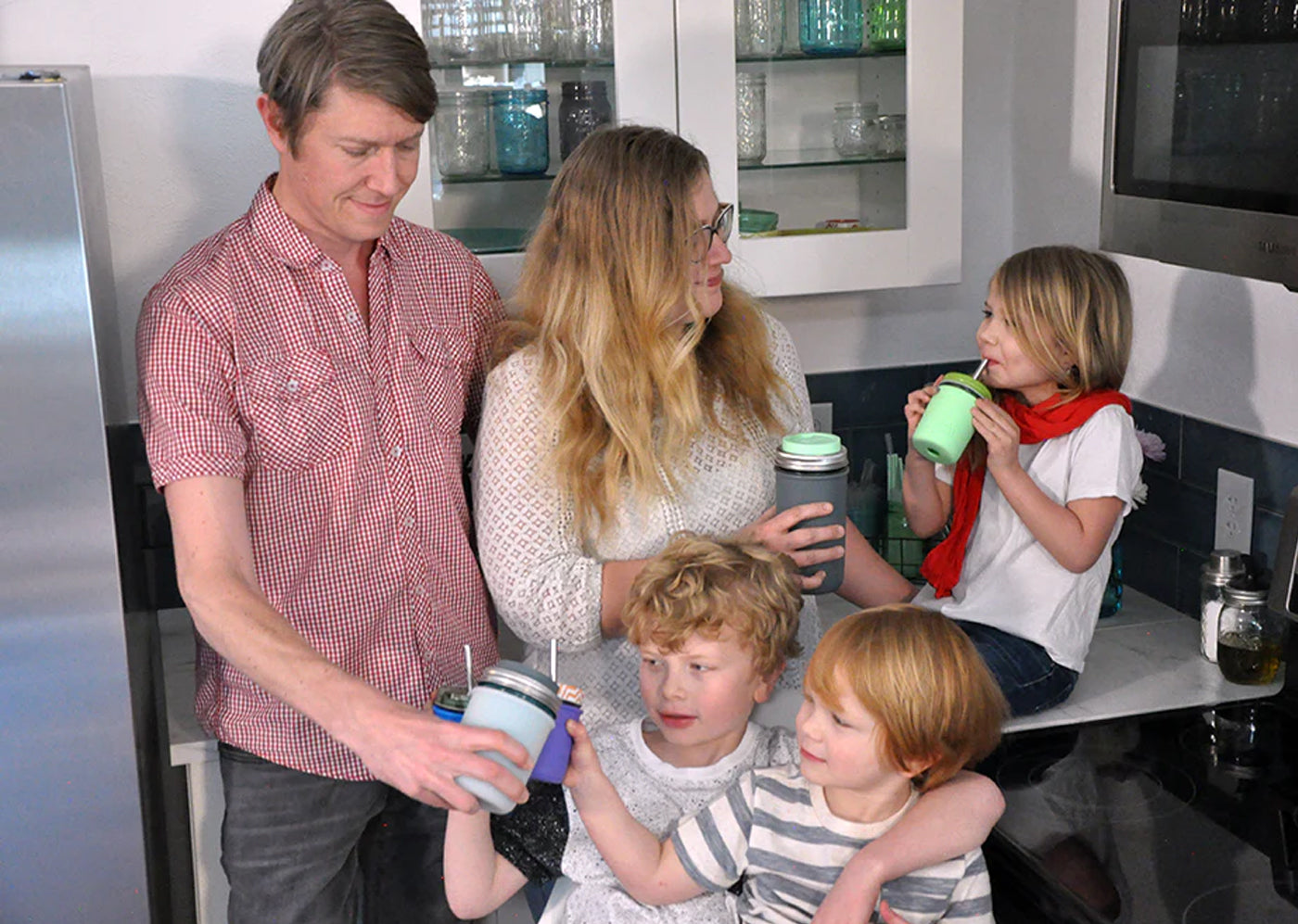 Our Story
We're proud to be a Colorado-based small, family-owned business and your home for authentic, eco-friendly mason jar innovations.
Hear our Story