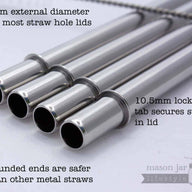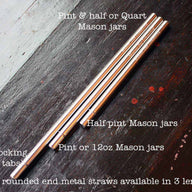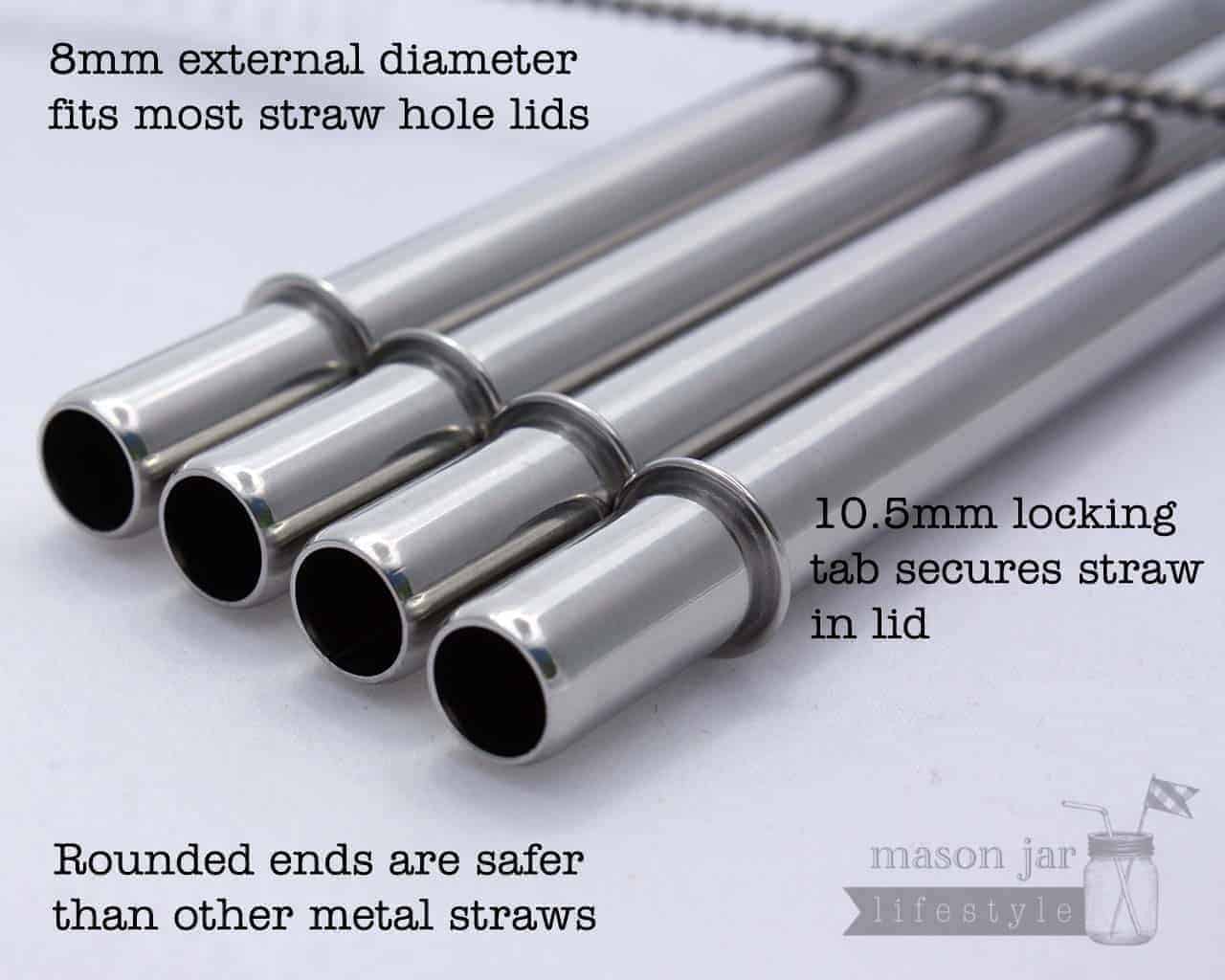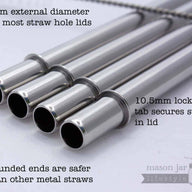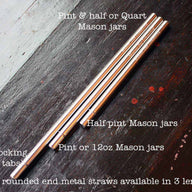 Product Description
Individual straws available here.
Short are 5 3/4" long to fit Half Pint jars, Medium are 7 1/4" long to fit Pint jars, and Long are 9" long to fit Quart or Pint & Half jars.

Our 8mm outside diameter stainless steel straws fit in most of our straw hole lids and are perfect for drinking any beverage.
The 10.5mm locking tab near the end will hold the straw in our straw hole lids so they cannot fall out without removing the lid. This is great for kids who pull their straws out and can't get them back in, and if the drink gets tipped over the straw stays in the jar. You need to put the straw in the jar first, then put the lid over the top and screw it on.
Mason jar straw hole lids can have different sized holes, so be sure to double check that your straws and lids are compatible.
The most reliable way to clean reusable straws is our straw cleaner with soap and hot water. They are also dishwasher safe, or a quick rinse might be sufficient. You can also boil these to disinfect them if you want to.
My personal cleaning routine is to rinse them after use, put them in the dishwasher, then run a straw cleaner through them and rinse again before putting them away. My dishwasher usually gets them clean but sometimes leaves a little residue so this ensures they are clean.
Stainless Steel is one of the most commonly used materials in the kitchen, used to make cookware, utensils, commercial food processing and storage equipment, and more. Stainless steel will not leach any chemicals into your beverage like plastic can.
Every day, 500 million disposable straws are used in the US! Start being part of the solution instead of part of the problem! You could use these straws for the rest of your life!
Stainless steel straws are:
Very strong and durable
Beautiful
Reusable and long lasting
Eco friendly
Dishwasher safe
Safe for all types of foods and beverages
Rust proof
Break proof
Note that jars and lids are sold separately.
Treat stainless steel straws like other metal utensils. Don't let a child run around with one, and please be careful!
Love them!
The straws are great and fit perfectly. I also like that I can still put the straw in the lids I got even after it's on the mason jar.
Some straws are to big, some are to narrow but your stainless steel straws are just right for smoothies and coffee.
Perfect Straws
The stainless steel rounded end straws are perfect. When ordering fast food I request no straws because the stainless steels straws keep the drink chilled and does not alter the taste of the beverages like paper or plastic straws. These make excellent gifts, too.
I also purchased the thinner bent stainless steel straws, my favorite.
I had previously ordered several versions of stainless steel straws from Mason Jar Lifestyle because I am committed to NOT using plastic straws. I have several at home - both the straight and the curved straws - and I even keep some in my purse in the MJL bag to use when I am at restaurants or traveling. On a recent road trip I often received interesting looks from clerks in gas stations and restaurants, which gave me a chance to promote stainless steel straws (and MJL). Recently I purchased more sets for an adult daughter's birthday, and she was thrilled to receive them. This is a small but important thing anyone can do to help reduce waste on the planet.
Perfect! So glad to have these
Learn More about Mason Jar Lifestyle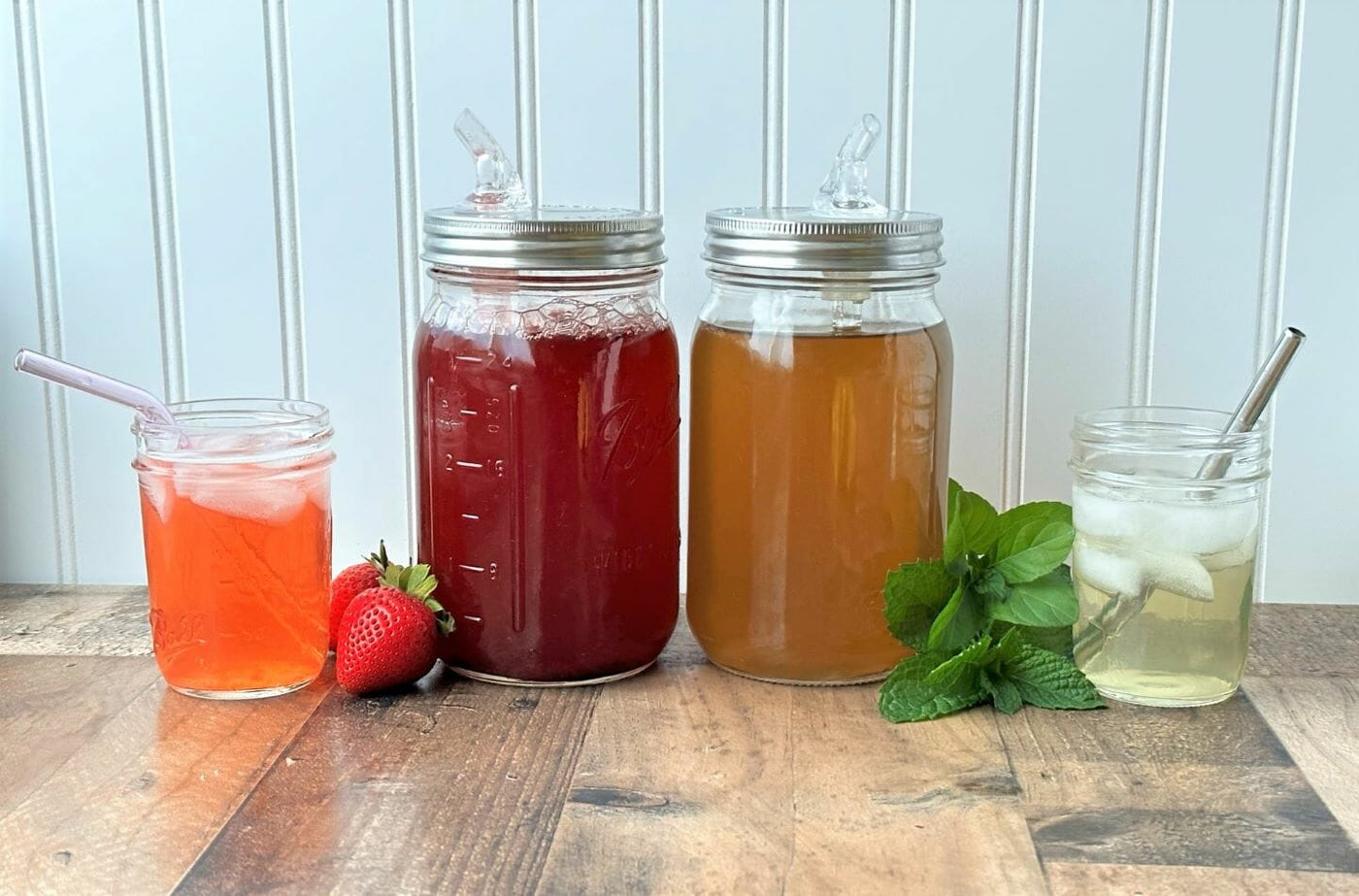 Check Out Our Blog
Find the latest recipes, DIY projects, and much more. All created and curated by our Mason jar experts.
View the Blog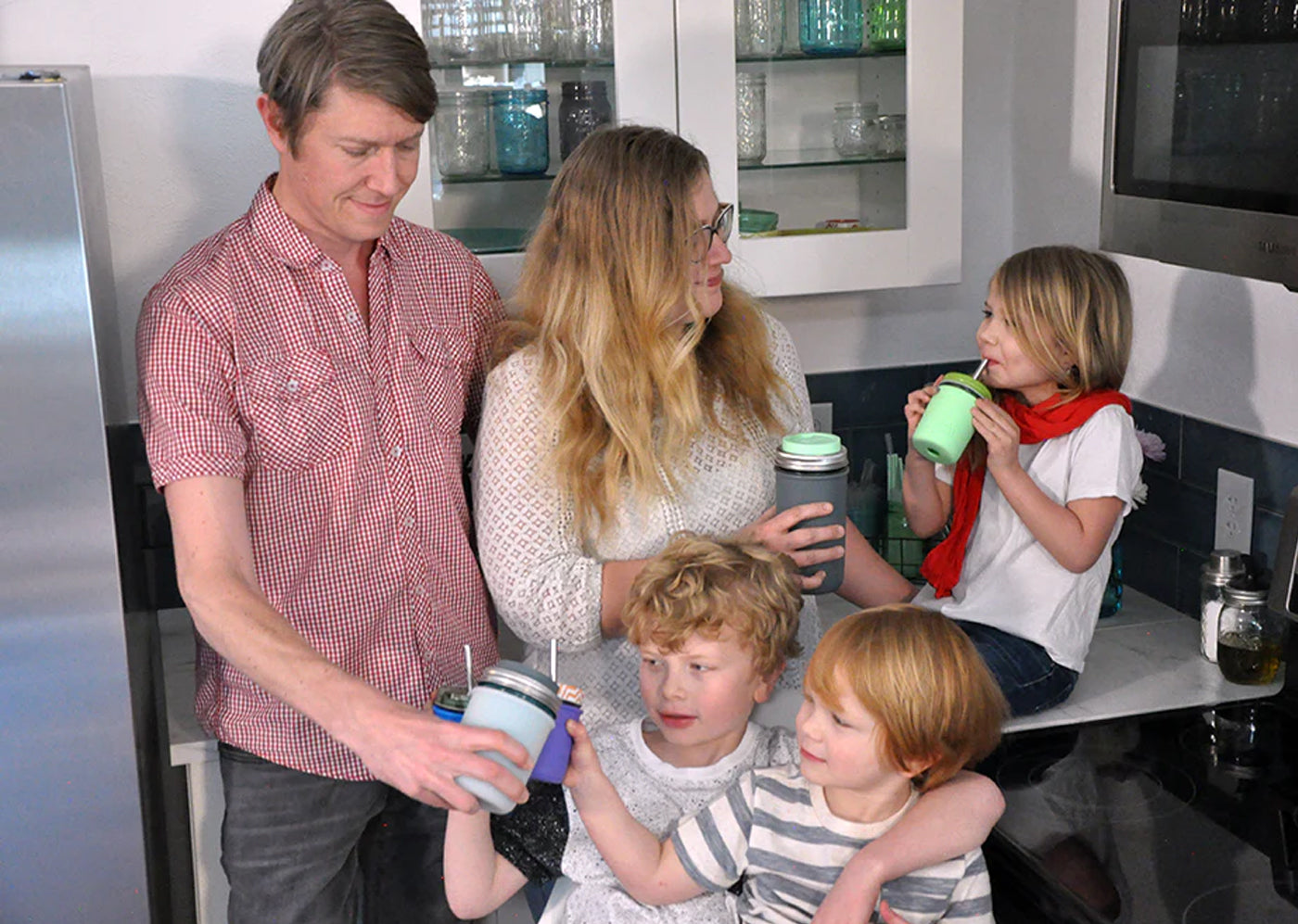 Our Story
We're proud to be a Colorado-based small, family-owned business and your home for authentic, eco-friendly mason jar innovations.
Hear our Story