Want To Work For An Awesome Small Business?

Sweet!  Because We Need You On Our Team!

Hey there, Mason jar fans!
We're hiring for a shipping position here at the Mason Jar Lifestyle warehouse located in beautiful Wheat Ridge, Colorado.  Interested?  Perfect!  Read on!
At MJL, we treat our employees like family and work together as a team to make this company succeed.  We're growing and want you to grow along with us!
Why Do You Want To Work For MJL?
First, a little bit about us (if you don't already know 

).
Mason Jar Lifestyle is a family run, small business founded and owned by Maggie and Ryan (who are the BEST bosses – and I'm not just saying that since they'll read this!).   They started this company in 2015 from a spare room in their house and now we fill to the rafters our 3,000 sq. ft. warehouse!
Here at MJL, we foster a fun, flexible, and positive work environment for our team with a kickin' sound system, real kitchen (with all the appliances!), big windows and plenty of light, bi-monthly happy hours, kid friendly policies and general hijinks.  Want to get to know your future coworkers and find out why we love working here?  Check out our bios HERE!
PLUS – if you like our stuff (and how could you not?!), then you'll love your employee discount!  Build up your own sweet stash of MJL goodies and never search for a last minute present again.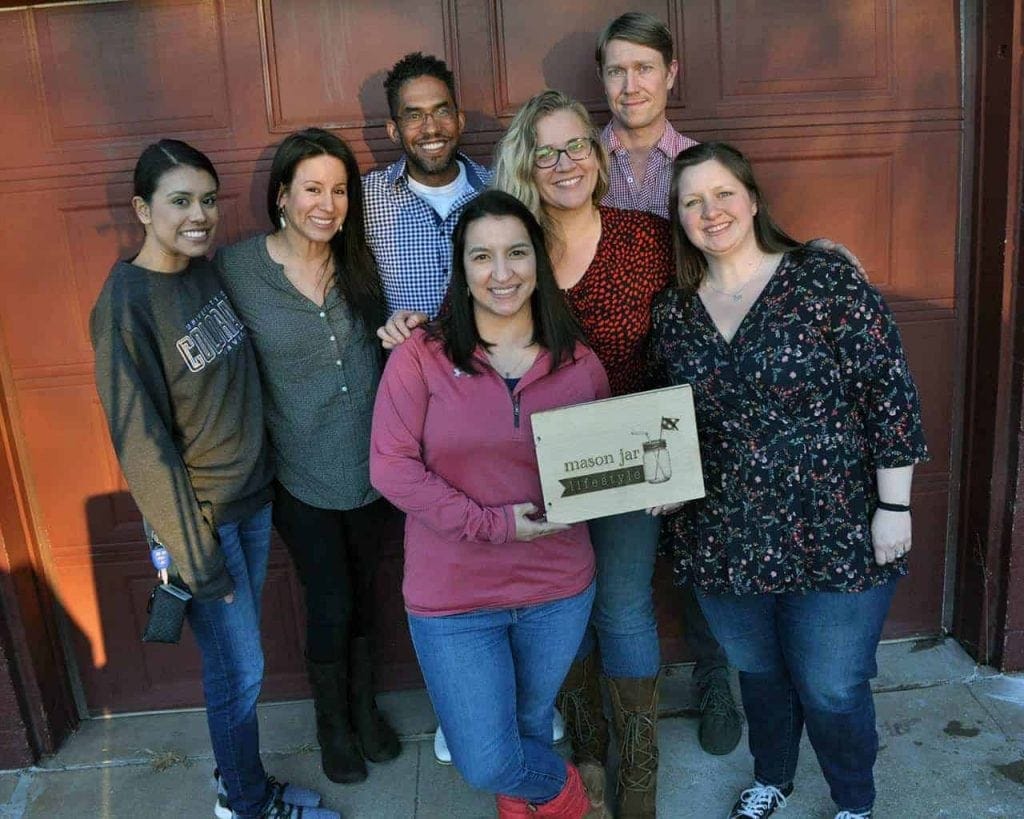 Tell Me About The Job!
Position working in the MJL shipping department. At a very basic level this means printing customer packing slips, locating the products, packing them into boxes, and printing the shipping label. Accuracy is super important, so you need to have very good attention to detail. 
The MJL Warehouse is located in Wheat Ridge near 44th and Kipling
Pay starts at $16/hour. 
Workload will be about 15-25 hours a week for shipping (there is a possibility of increasing this by adding other tasks or special projects).
MUST work Thursdays, Fridays, 

and

Saturdays every week, all year long, dependably.

 If you're in a pinch, we work as a team, and you may ask another team member to trade or cover hours from time to time. We are all pretty flexible.

Mask wearing is required when 2 employees are in the same room or area

 (until this dreadful pandemic ends)

. Saturdays you will often be alone, but Thursdays and Fridays there will usually be someone else working.
Work Hours:

Expect to work 5 – 8 hours on each shipping day, depending on order volume.
Our goal is to ship all orders received before 2pm on the same day. The post office picks up from us around 3, and is open until 5:30.
Hours are flexible as long as all the orders get shipped. You can leave for an hour or come in late for an appointment, to get your tires changed, or watch your kid's school play. It works best to end your day when the post man picks up our packages around 3pm.

You will need to help pack and prep inventory to be sent in to Amazon FBA.
We strive for accuracy and hold shippers accountable to a less than 1% error rate (we'll help you with that)
We all have to chip into keep the warehouse clean and you'll be assigned more in depth cleaning of the common areas once/month (don't worry – we have a checklist to guide you!)
We're a small business so when someone is sick or on vacation we have to pitch in to cover their workload.  Ideally your schedule will be moderately flexible to help coverage
This job requires moderate physical activity

, lots of standing and walking, and the ability to occasionally lift 50 pound boxes

As a retail business, we need all hands on deck for November and half of December for the holiday season

Especially around Black Friday, Small Business Saturday, and Cyber Monday

This job requires you to have a car, valid Driver's License, and automobile insurance as driving your personal vehicle (to drop packages off at the Post Office, etc.) is required
Who Are We Looking For?
Someone who is…
Reliable
Detail oriented
Excited to help the business grow
Green minded
Upbeat
Friendly
A team player
Flexible and open to changes
Computer savvy
(can use apps in Windows, change printer settings, basic troubleshooting)
Able to work independently

Sometimes you'll work alone
But okay with a little noise and chaos too (we've got a lot of kids in the MJL family!)

Self motivated
A problem solver 
How To Apply?
Love us and want us to get to know you better?   Great!
 Send us a cover letter including:

Information about you!
Do you have any special skills or experience that may be valuable to an e-commerce business?
Why do you want to work at MJL? 
What's your favorite product on our website and why?
What's your favorite way to use a Mason jar or your favorite green living tip!
How do you feel about repetitive activities (packing for Amazon)?

Include your resume and contact info
Include 3 references
Send your application to

[email protected]