Naturally Dyed Easter Eggs Using Everyday Food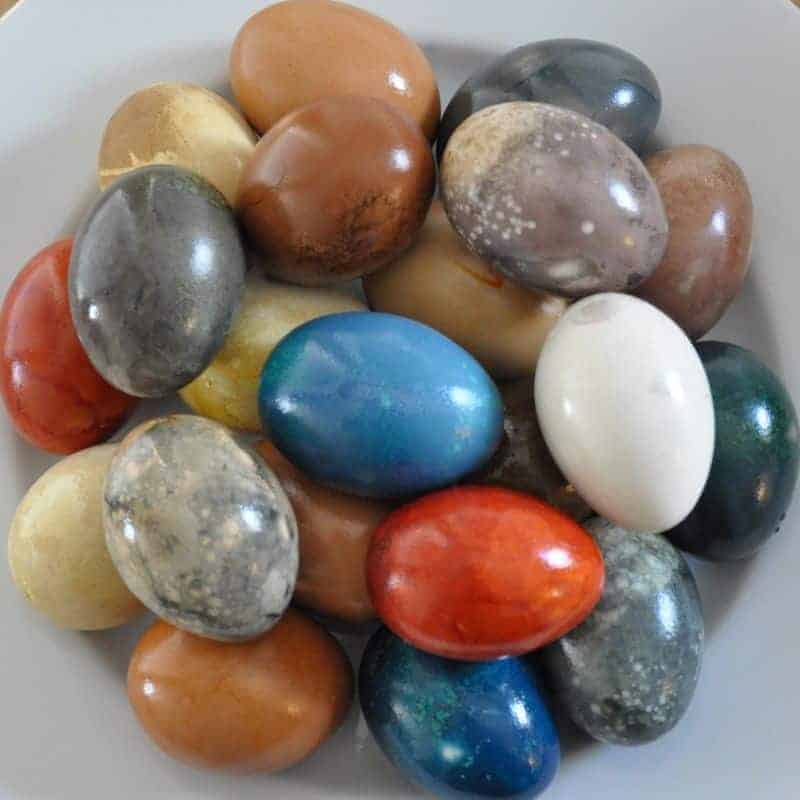 Hey there, Mason jar fans!
If you're reading this blog post in real time, then you're in the throws of Quarantine 2020 with the rest of us and life is a little unsettled at the moment.
But in the chaos, we're also finding extra time to slow down and be at home. 
So in that spirit, I decided to try my hand at a project I've contemplated for years – naturally dying Easter eggs.
"Why naturally dye Easter eggs?" you might be asking yourself… Well, my husband would say it's because I'm "addicted to being difficult," but that's not how I choose to frame it 😀.
I'm always striving to do what I think is best for our family (even if that's not the most convenient option).
So Why Skip Artificial Food Coloring?
Artificial food coloring is designed to make food look prettier and be more appealing to consume and boy does it work! Consumption of food dyes has increased 500 percent in the past 50 years! Ingesting artificial dyes has been linked to hyperactivity, behavior problems, and possibly increases the risk of developing certain cancers. While no artificial colors are currently banned or limited here in the United States, other countries have taken steps to remove certain dyes from their food.
And yes, I acknowledge typically not that much dye gets inside of the eggs (depending on how exuberant your helpers are…) so it's probably not a big deal and your exposure would be minimal. That being said, we've chosen to pass on the Paas for decades.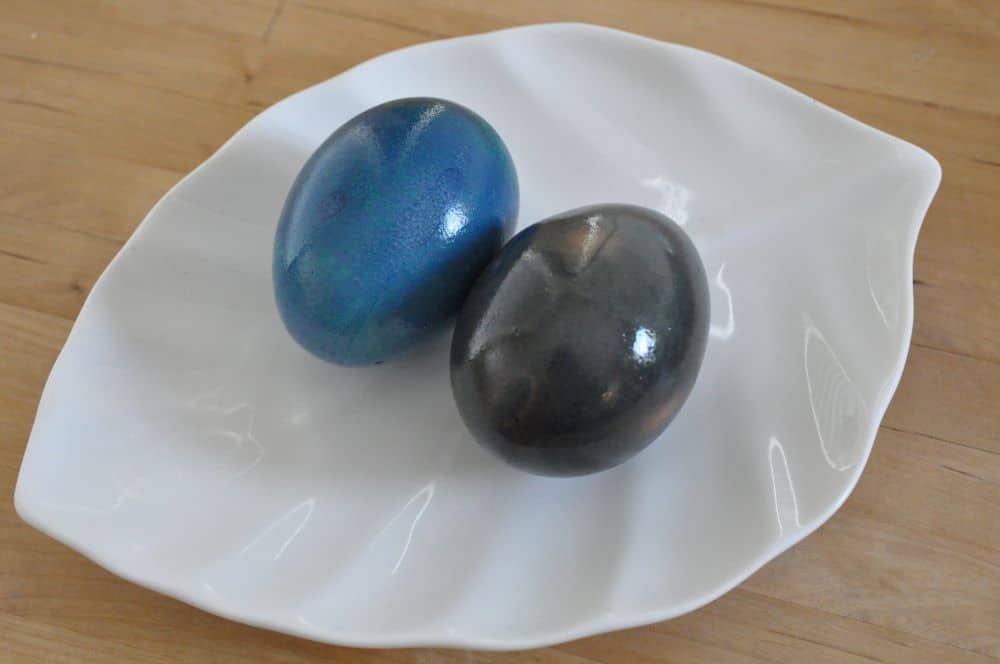 At Chateau Nadeau, we've been buying natural, food based egg dying kits since our daughters were born. They work okay, but I've never been blown away. Plus the kit we regularly buy only has 3 colors in it, so it's really not that exciting. Hence the decision to try making our own dye this year!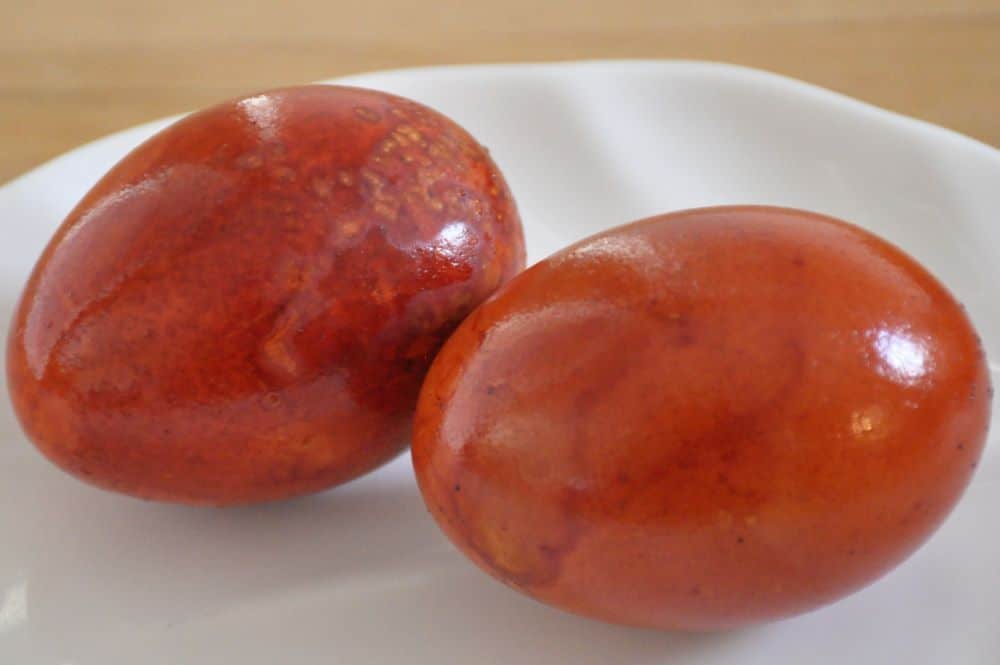 Our Easter Egg Dying Experiment
I'm a bit of a research nerd – if you know me, then you already know that! I looked at a lot of different websites and recipes in putting this project together, and I'll link them all at the bottom for you to puruse.
I decided to try to pull together different recipes in order to simplify the process and hopefully create "best practices" for everyone.  
The recipes (see below) in this blog post are exactly what I used, and that decision was made based on my research, what I had at home already, and what I was able to find at the store (remember: Quarantine 2020 and the panic buying).
You may want to try and adjust them a little and see what results you get. Perhaps you have different fruits, veggies, teas, and spices on hand that you want to utilize. I think the best part of creating your own dye is that it's a great experiment for everyone to participate in.  So get creative and then share your results!
I also wanted to test out the difference between dying white and brown eggs. I don't know about you, but we typically have brown eggs on hand, and it can be a bit of a pain to remember to pick up white eggs just for dying.
In the recipes I looked at, it generally said dying brown eggs would simply give you a darker or more jewel like tone. That didn't seem very likely to me so I decided to try a white and a brown egg in the same mixture for the same amount of time to see the results.
You can also vary the amounts and types of acid in the dye to produce different effects. ScienceFriday did a whole article on it which would be a great chemistry lesson for those quarantine schooling right now!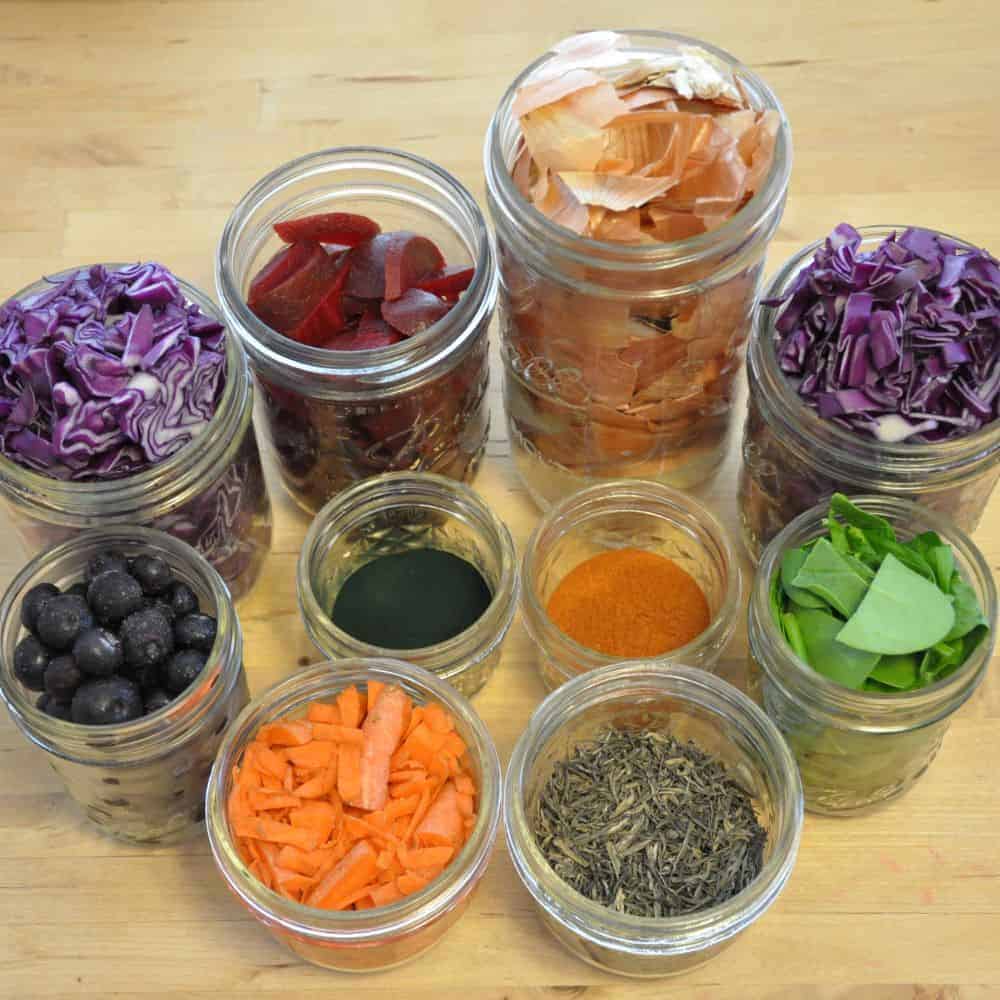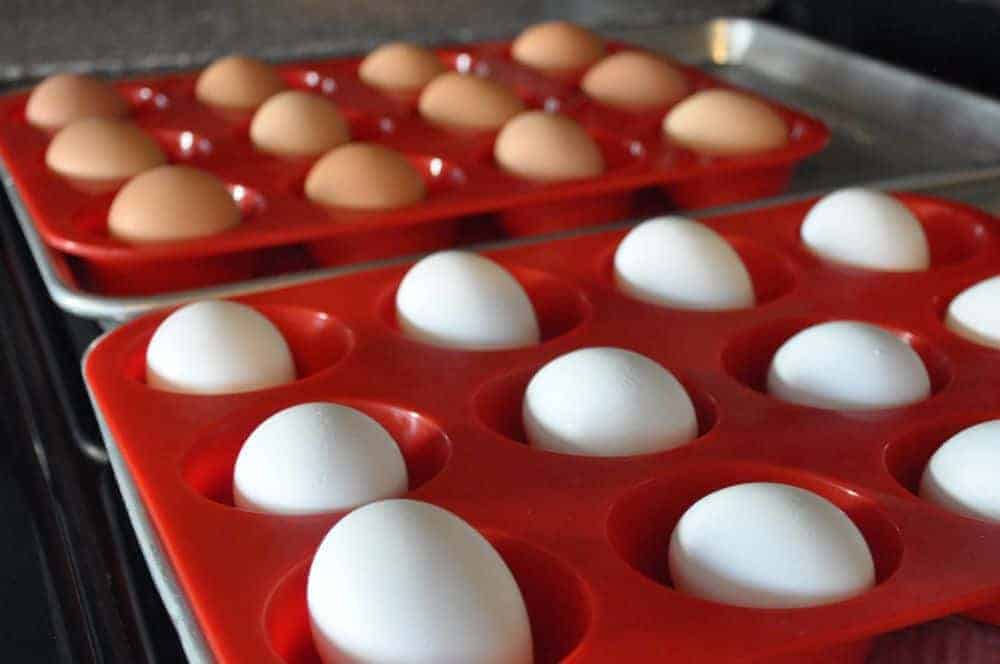 Step 1 :  Hard Boil Some Eggs
I've been hard boiling eggs in muffin pans in the oven for a while now. I think it's easy, effective, and minimizes cracking.
Preheat oven to 350 degrees F (175 degrees C).

Put 1 egg in each of 12 muffin cups.

Bake in preheated oven for 30 minutes.

Plunge baked eggs in a large bowl filled with ice water until cooled completely, about 10 minutes.
Feel free to try this method, or just boil your eggs on the stovetop, whichever you prefer. No matter which method you use, make sure your eggs are cooled before dying.
Step 2 : Creating Your Natural Dyes
Look at the recipes below, decide what options you want to try, and start pulling together those ingredients. 
I created my dyes primarily by either boiling the ingredients in two cups of water on my stovetop for 15 minutes or pouring two cups of already boiling water over them (blueberries only used one cup). 
I added two tablespoons of white vinegar to all but TWO of the colors I created.  I couldn't find the reason to not add vinegar to blueberries but every recipe I read did NOT add it – so I skipped it for mine as well. 
I also did red cabbage two ways (one with vinegar and one without). In my research, I saw that this should produce two different colors (blue and purple).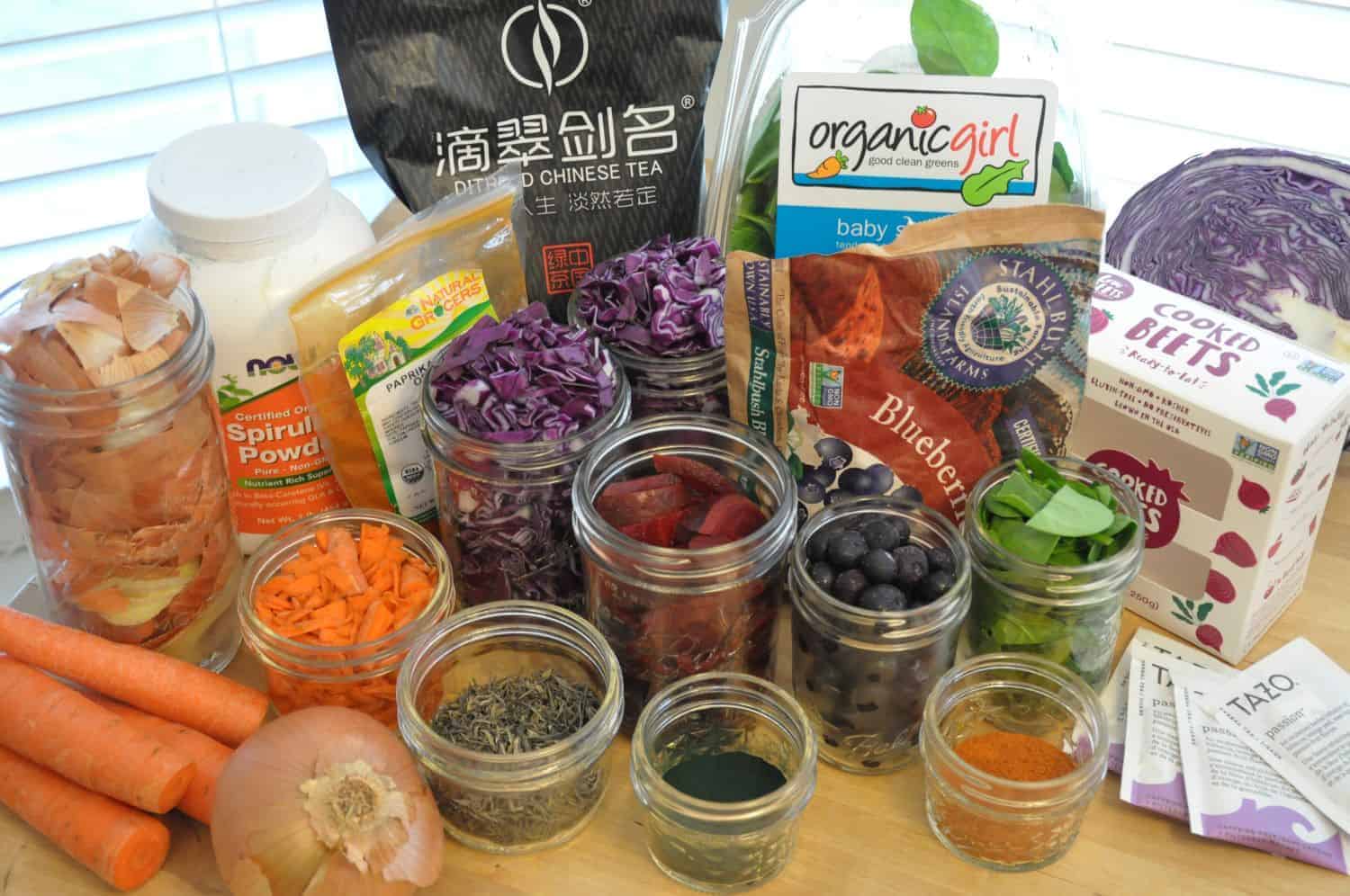 SIDE NOTES:  I had wanted to try grape juice for purple, but the store was out when I went and so I decided to mix beets and hibiscus instead in an attempt to create magenta.  I also had to buy cooked beets instead of raw – again the store was out (remember: panic buying) and that may have influenced the color I produced.
Here is a list of the colors I attempted to create, ingredients used, and process followed to create those natural dyes:
Pink: 
BEETS
8oz beets

2 cups water
Boil on the stovetop for 15 minutes
Allow to cool and strain mixture
Pour into 16oz wide mouth Mason jar
Add 2 tablespoons white vinegar
HIBISCUS TEA
In 16oz wide mouth Mason jar

4 tea bags (I used Tazo Passion tea)
2 cups of boiling water
Steep until cool
Remove tea bags
Add 2 tablespoons white vinegar
MIX
In 16oz wide mouth Mason jar fill:

½ beet mixture
½ hibiscus mixture

2 tablespoons white vinegar

Purple:
RED CABBAGE-NO VINEGAR
2 cups red cabbage, shredded

2 cups water
Boil on the stovetop for 15 minutes
Allow to cool and strain mixture
Pour into 16oz wide mouth Mason jar
Orange:
ONION PEELS
4 onion peels about 24oz

2 cups water
Boil on the stovetop for 15 minutes
Allow to cool and strain mixture
Pour into 16oz wide mouth Mason jar
Add 2 tablespoons white vinegar
PAPRIKA
In 16oz wide mouth Mason jar

1oz paprika
2 cups of boiling water
Allow to cool
Add 2 tablespoons white vinegar
Yellow:
GREEN TEA
In 16oz wide mouth Mason jar

4oz green tea
2 cups of boiling water
Steep until cool
Remove tea bags
Add 2 tablespoons white vinegar
CARROTS
8oz carrots (tops, bottoms, peels)

2 cups water
Boil on the stovetop for 15 minutes
Allow to cool and strain mixture
Pour into 16oz wide mouth Mason jar
Add 2 tablespoons white vinegar
Green:
SPINACH
In 16oz wide mouth Mason jar

8oz fresh spinach, chopped
2 cups of boiling water
Steep until cool
Blend in blender or food processor
Strain mixture
Pour back into 16oz wide mouth Mason jar
Add 2 tablespoons white vinegar
SPIRULINA
In 16oz wide mouth Mason jar

1oz spirulina powder
2 cups of boiling water
Steep until cool
Add 2 tablespoons white vinegar
Blue:
RED CABBAGE
2 cups red cabbage, shredded

2 cups water
Boil on the stovetop for 15 minutes
Allow to cool and strain mixture
Pour into 16oz wide mouth Mason jar
Add 2 tablespoons white vinegar
BLUEBERRIES
In 16oz wide mouth Mason jar

8oz blueberries, frozen
1 cup boiling water
Mash blueberries to release color
Allow to cool and strain mixture
Pour back into 16oz wide mouth Mason jar
NO VINEGAR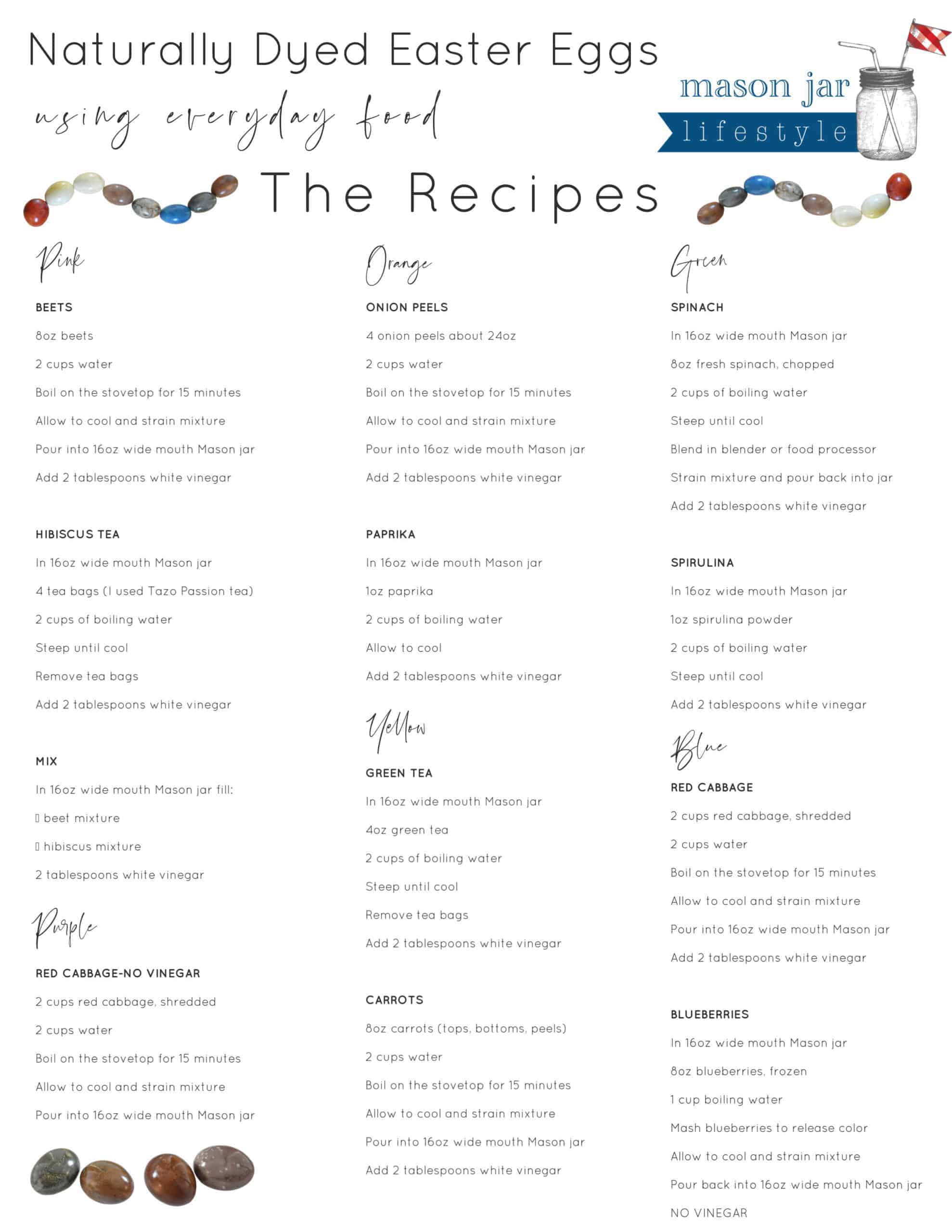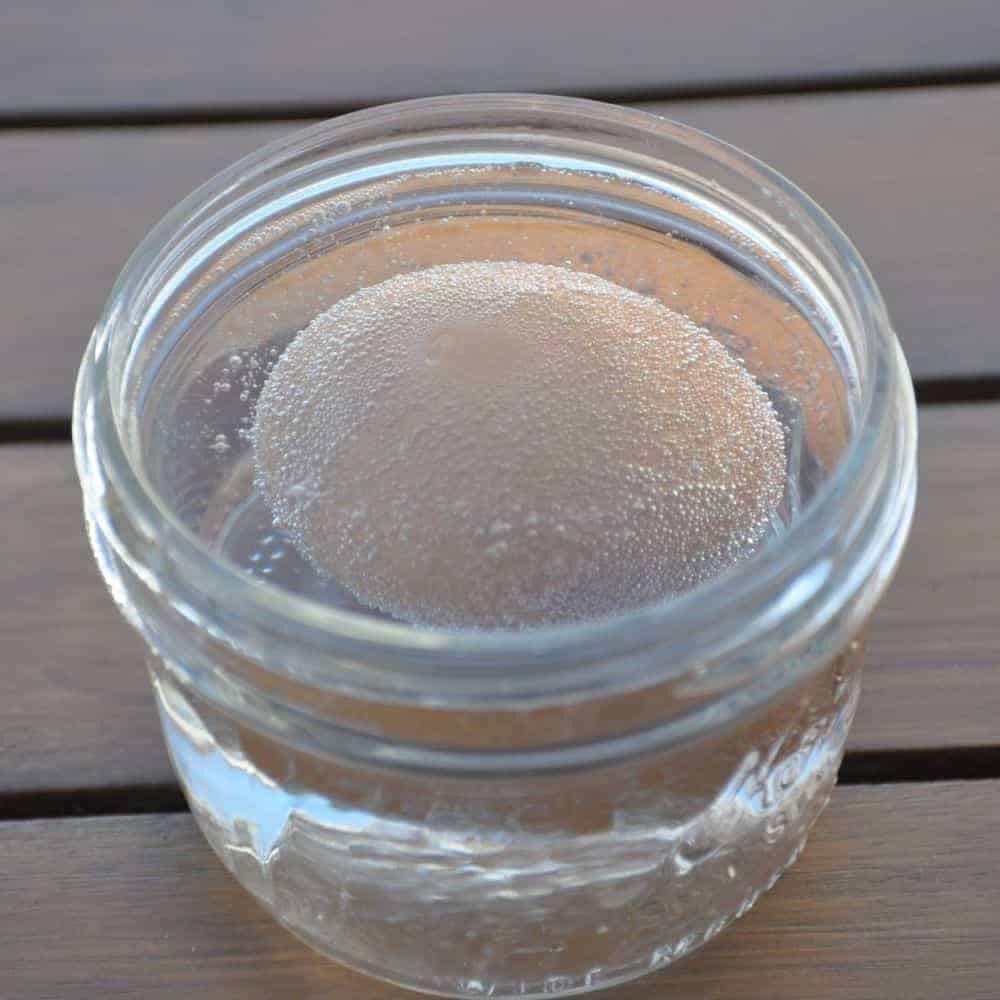 Step 3 : Prepping Those Eggshells
There's some fascinating science out there explaining why vinegar is used to dye Easter eggs!
I'll link to those at the bottom as well so you can read all about how it increases the surface area of the shell, releases carbon dioxide, and changes molecular charges to increase the shells receptivity to dye.
For my experiment, I soaked each egg in white vinegar for 20-30 seconds. 
You can see the carbon dioxide releasing and creating all those bubbles!
And yes, I soaked the blueberry and no-vinegar-cabbage eggs as well. 
I'm not sure if that was the right choice or not, but that's what I decided to do.

Step 4 : Naturally Coloring Eggs
Now that you have all your colors prepped, cooked, and cooled in your 16oz wide mouth Mason jars, you're all set to start coloring!
I put one white and one brown egg in each jar.  A third egg might have been possible but I didn't need 3 dozen hard boiled eggs!
Next I put lids on all my jars, like these, and put them in my fridge. 
 I had meant to let mine dye in the fridge for 24 hours but… I got busy and they sat for 48 hours. I don't think that negatively impacted the colors as I checked on them a few times during the process, but I think 24 hours would have been sufficient.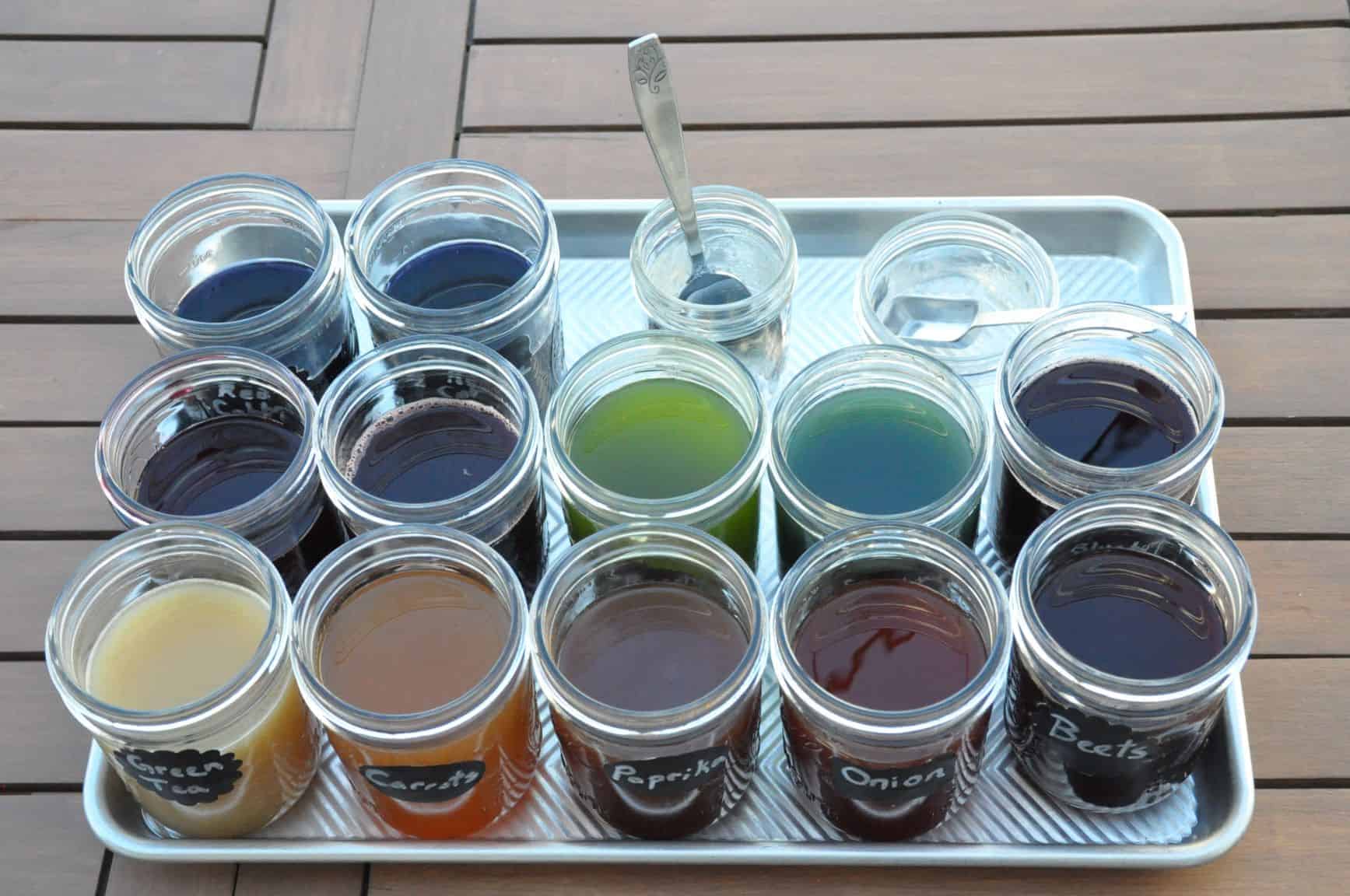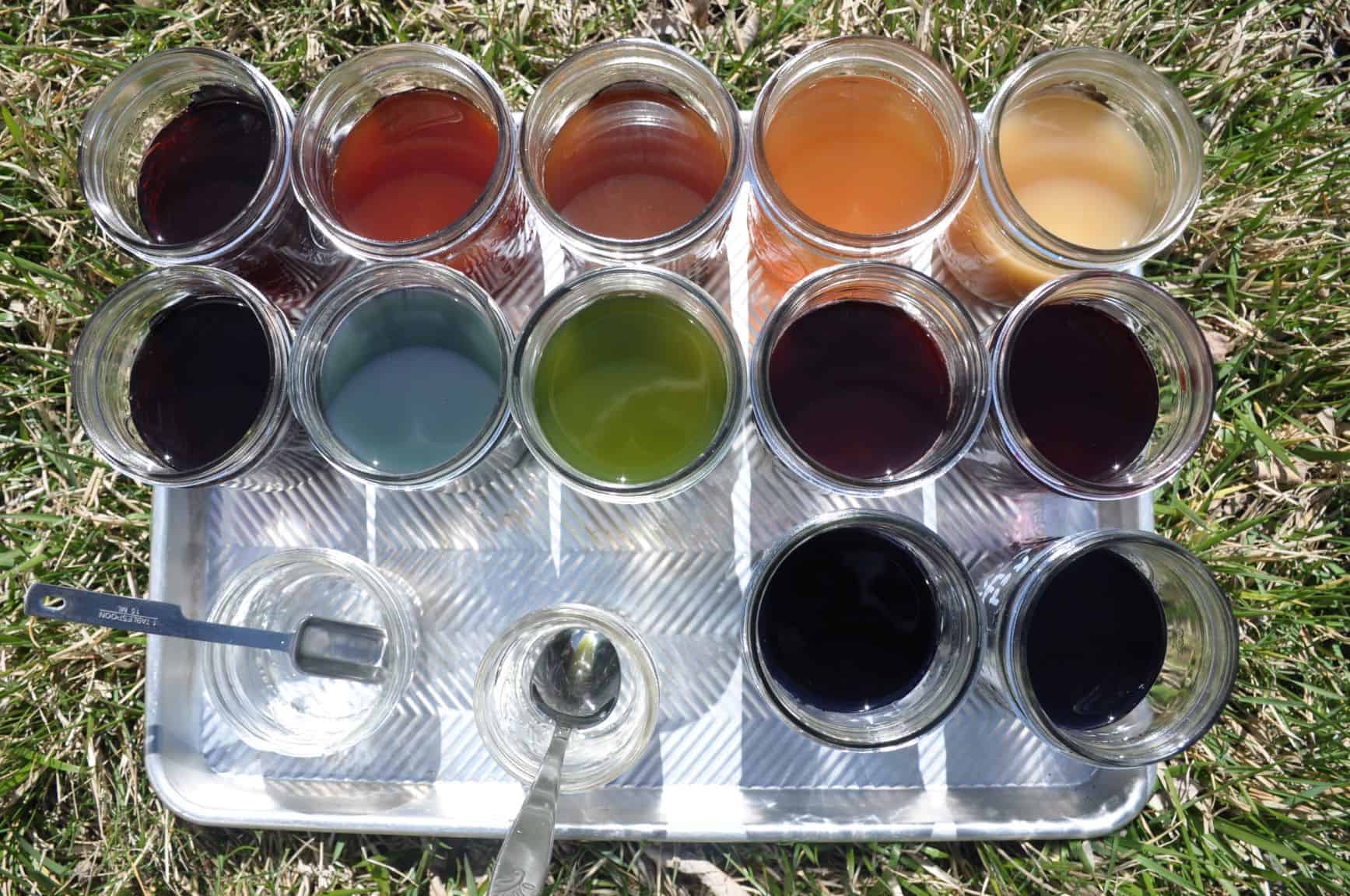 Then I took the eggs out and let them dry briefly on cooling racks. You can then put them back in their egg cartons.
I also rubbed them lightly with olive oil to give them the polished stone look before photographing them.
This is probably best for setting them on a beautiful plate and serving and not a great idea if you're putting them in baskets or hunting them.
Another bonus to food dyed eggs is the shells will be totally compostable which my garden LOVES!
Well here they are!  My girls and I were pretty thrilled with how the colors turned out, and they really enjoyed helping me with this experiment. 
I  put together a printable PDF for your reference of what ingredients we used and the resulting egg color:
ttThe Breakdown
Pink:
Beets didn't produce a pink or purple color for us but instead a interested reddish brown. As I mentioned earlier, I had to buy cooked beets because Quarantine 2020 and panic buying, so that have have impacted the resulting color. I'd like to try again with fresh beets and see the results.
Hibiscus didn't produce pink either but rather a beautiful, mottled blue. I think this one may have been my favorite and reminded me of the moon.  
Mix of beets and hibiscus didn't make magenta as I'd hoped but it did color the eggs with the mottled texture of the hibiscus and the coloring of beets for a very interesting effect.
Orange:
Onion peels may have been the biggest surprise! I'd never have thought they would produce the orangey red dye when boiled or that they'd color both the white and brown egg so thoroughly.  These eggs are absolutely stunning in person!
Paprika did tint the white egg a light orange and produced motled coloring on the brown egg.
Yellow:
Green tea, like paprika, lightly tinted the white egg a pale yellow but the brown egg was pretty much the same color.
Carrots seemed like they'd work well but in our experience we only got a very pale yellow on the white egg and virtually no color on the brown.
Green:
Spinach was a popular choice in the various blogs I looked at. In our testing we saw lovely, pale green coloring on the white eggs but only a few green streaks on the brown.
Spirulina as only mentioned in passing on one blog I saw, but I had it in my cupboard so figured I'd try. I have to say it was pretty much a fail. There are very slight traces of color on the white egg and nothing on the brown.
Blue:
Red cabbage (with vinegar) made deep purple dye that colored both the white and the brown egg pretty well with a deep blue green color. These are so beautiful!
Blueberries said they produced a blue-gray color and that was true on the white egg. I thought this one was lovely on both white and brown eggs for its mottled texture and interesting color. We used frozen blueberries and fresh might have made a difference in the results. It'd be interesting to try it again.
Purple:
Red cabbage (no vinegar) was said to produce purple eggs but that's not what we found, though the color is slightly different from the other red cabbage. These eggs were still beautiful and a lovely shade of blue on both the white and brown egg.
Mason Jar Inspired Easter Baskets
If you're putting together Easter or spring baskets for the kiddos in your life, here are some Mason jar inspired items that are a HUGE hit at our house!
Mason Jar Piggy Bank
This little piggy comes in blue or pink, fits on a regular mouth Mason jar, and you can find it HERE.
We've had this bank for YEARS and my daughters still carry it around like a precious lovie. It's a bonus that the money can be easily removed without having to break the bank!
Firefly Catching Kit for Mason Jars
This adorable set up fits regular mouth Mason jars and you can find it HERE.
We always try to give our daughters some outdoor toys for Easter and this is a great addition. My girls love to catch bugs and keep them in this snazzy set up. The yellow lid is cut out with tiny fireflies for added cuteness.
Buying Candy In Bulk with Mason Jars and Storage Lids
If you're trying to reduce the amount of plastic you're using, then buying it in bulk is a great option! 
Right now with Covid-19 going around, I couldn't show going to our local health food store and buying candy in bulk with Mason jars as they're not allowing personal containers.
Under normal circumstances this is totally possible; simply have the cashier get the tare weight of your jar and write it on your storage lid or put it on a piece of tape on your jar.
What we did this year was buy candy in a larger bag (not individually wrapped pieces) and give each girl some in their own jar with a storage lid.
Displaying Those Eggs!
They're beautiful so show them off!  I put a handful of ours in a wide mouth Quart jar with a decorative lid for a super cute look that the kids loved too!  Plus as I mentioned above, since I'd rubbed them with oil, I thought this was safer than lose eggs in the basket.
Custom Easter Bunnies made by my wonderful sister-in-law HERE.

I hope you enjoyed this tutorial on naturally dying eggs.  If you have any comments or questions, post them below and let me know!